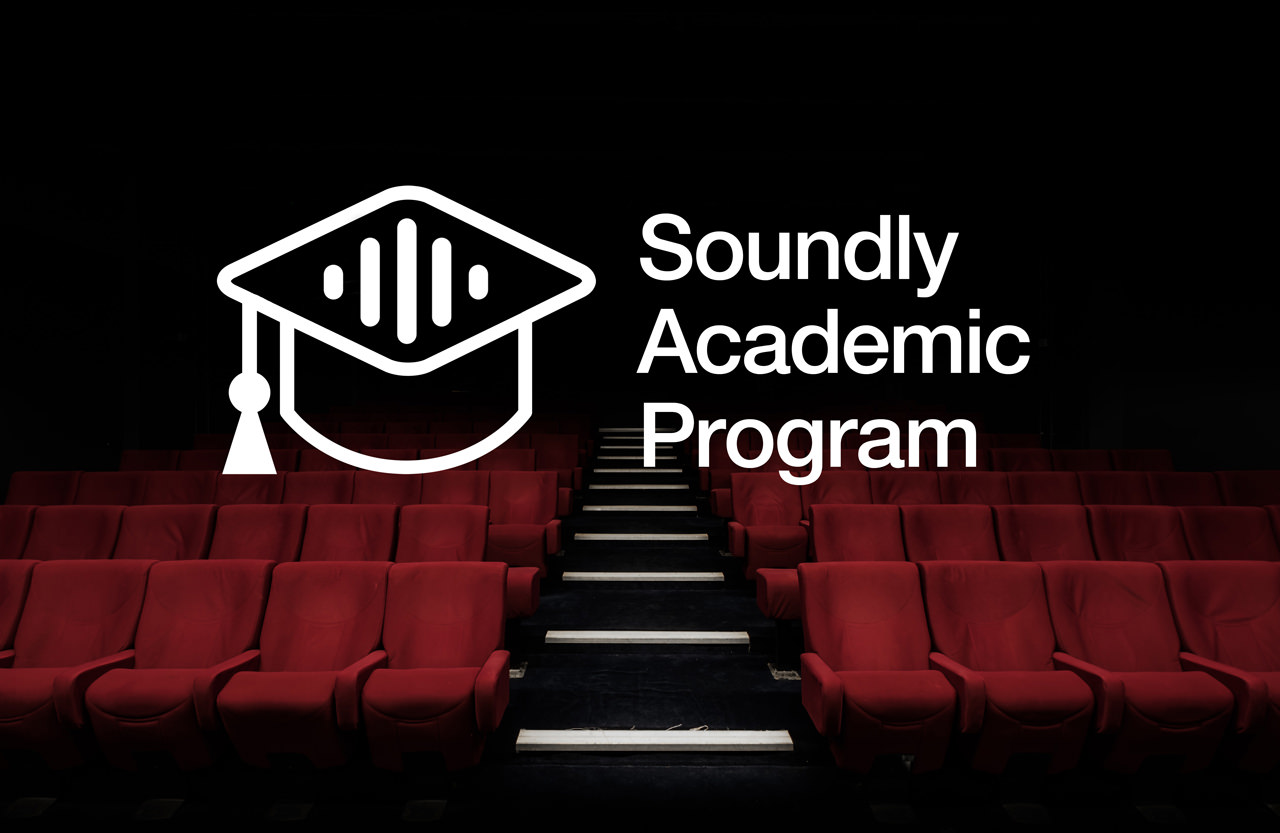 Soundly Academic Program
It is important to Soundly that students, teachers, and educational staff have access to professional quality solutions used by the current and future media industry. The Soundly Academic Program provides students and educational institutions with support and discounts.
We tailor our solutions to each educational facility's specific needs, and we provide generous trial periods so that you can try all the features of Soundly without having to commit to anything before you are absolutely determined that Soundly is the right sound effect platform for your institution.
Several prestigious educational institutions worldwide take part in The Soundly Academic Program, such as:
LIPA
American Film Institute
UCLA
Den Danske Filmskole
Vancouver Film School
Warszawa Film School
IED
Read about how the L.A. Film School use Soundly to prepare students for their careers.
Regardless of your institution's size or budget, Soundly can provide you with a powerful and battle-tested sound effects platform that scales from a few to thousands of users.
Painless User Management
User management in Soundly is fast and easy for teachers and student administrators. The powerful Soundly admin panel lets you easily generate a single activation code for a certain student group, with custom expiry dates, user limits, and so forth. Individual students can use the generated activation code to register their personal accounts and configure Soundly to their liking.
The ability to generate a single code for multiple groups of students makes user management a breeze, so teachers can focus on teaching instead of configuring user licenses.
Soundly Is Here To Assist!
Soundly place great emphasis on education, so institutions within The Soundly Academic Program receive unparalleled support, generous discounts and several months of free trial periods. That means that Soundly can be configured to your institution's specific needs before any financial commitments on your part.
No matter your situation, we will do everything we can to assist.
Contact us about The Soundly Academic Program.
Are you studying at a facility that is not yet part of The Soundly Academic Program? If so, we would greatly appreciate it if you shared this post with a teacher or the administration. You can apply for an individual student discount here.
We are looking forward to hearing from you!
Download Soundly at getsoundly.com