Article by: Erling Hoff — Apr 11 2023
Streamlined User Management for Film Professionals and Educational Institutions
The new Soundly multi-user tools take us one step closer to our goal of reducing user management time to near zero!
Generate activation codes for your team members, enabling them to create their own profiles with ease. Deploy accounts with multiple simultaneous logins, letting your organization access Soundly using a single community login. Our sleek new design makes searching for and editing user information a breeze — user management has never been easier!
Reach out to our dedicated support team to get started quickly: Contact us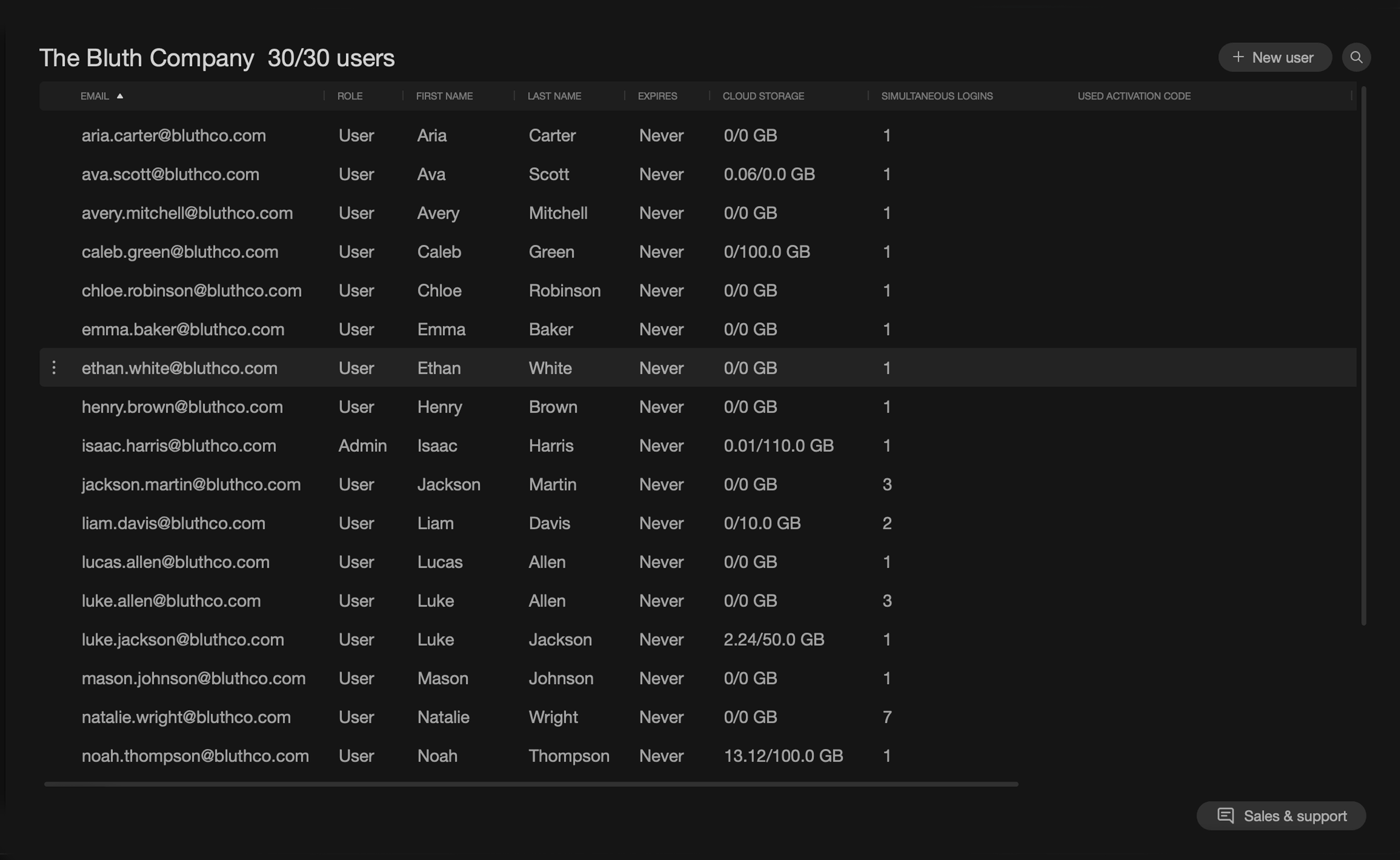 Soundly, the complete sound effects platform trusted by sound designers, video editors, production houses and educational institutions worldwide, is excited to introduce the new multi-user panel. This upgraded panel streamlines user management within your organization or educational institution, making it more efficient than ever. With the recent update, Soundly's multi-user panel now offers several benefits that simplify granting team members access to an extensive library of high-quality, royalty free sound effects and a efficient and battle-tested sfx workflow.
California Institute of the Arts, along with numerous companies and educational institutions, has adopted Soundly's multi-user panel to facilitate student access to sound effects. The panel enables administrators to effortlessly manage any number of users. Whether onboarding new students or employees, Soundly's multi-user panel ensures a smooth and organized experience.
Soundly is committed to providing sound designers, film professionals, game studios, students, teachers, and educational staff access to professional-quality solutions employed by the current and future media industry. The Soundly multi-user programs offer support and discounts tailored to each educational facility's unique needs, along with generous trial periods that allow organisations to explore Soundly's features before making any commitments. Please contact us for any questions about the Soundly multi-user programs here.
Numerous prestigious educational institutions and renowned companies worldwide rely on the powerful Soundly multi-user panel, including Buddha Jones, CalArts, Vancouver Film School, NRK, IED, Audible, Unreal Engine, Den Danske Filmskole, LIPA, CBS, Warszawa Film School, Ubisoft, American Film Institute, and UCLA.
Explore the key benefits of Soundly's enhanced multi-user panel:
Effortless User Base Search and Editing
Administrators can swiftly search and batch edit their user base by criteria such as name, email, or last active date. This streamlined method makes user management a breeze.
Single Activation Code for Group Access
Soundly's multi-user panel enables teachers, professors, IT administrators at production houses, and other professionals to generate a single activation code for groups to set up their accounts.
Simultaneous Logins
For added convenience, particularly beneficial for small companies and organizations, users can now use the same email and password across multiple systems.
Elegant and User-Friendly Design
The updated multi-user panel boasts a sleek and intuitive design, making user management even more enjoyable.
Unparalleled Support
Soundly multi-users receive exceptional support, generous discounts, and extended free trial periods. Soundly can be configured to your organisation's specific needs before any financial commitments on your part. Contact us to discover how Soundly can help you effortlessly set up a multi-user account.
Watch our promotional film to see how CalArts utilizes the multi-user panel to provide students with access to sound effects.
For more information about our multi-user programs, contact us and we will help you get started quickly!
Download Soundly at getsoundly.com