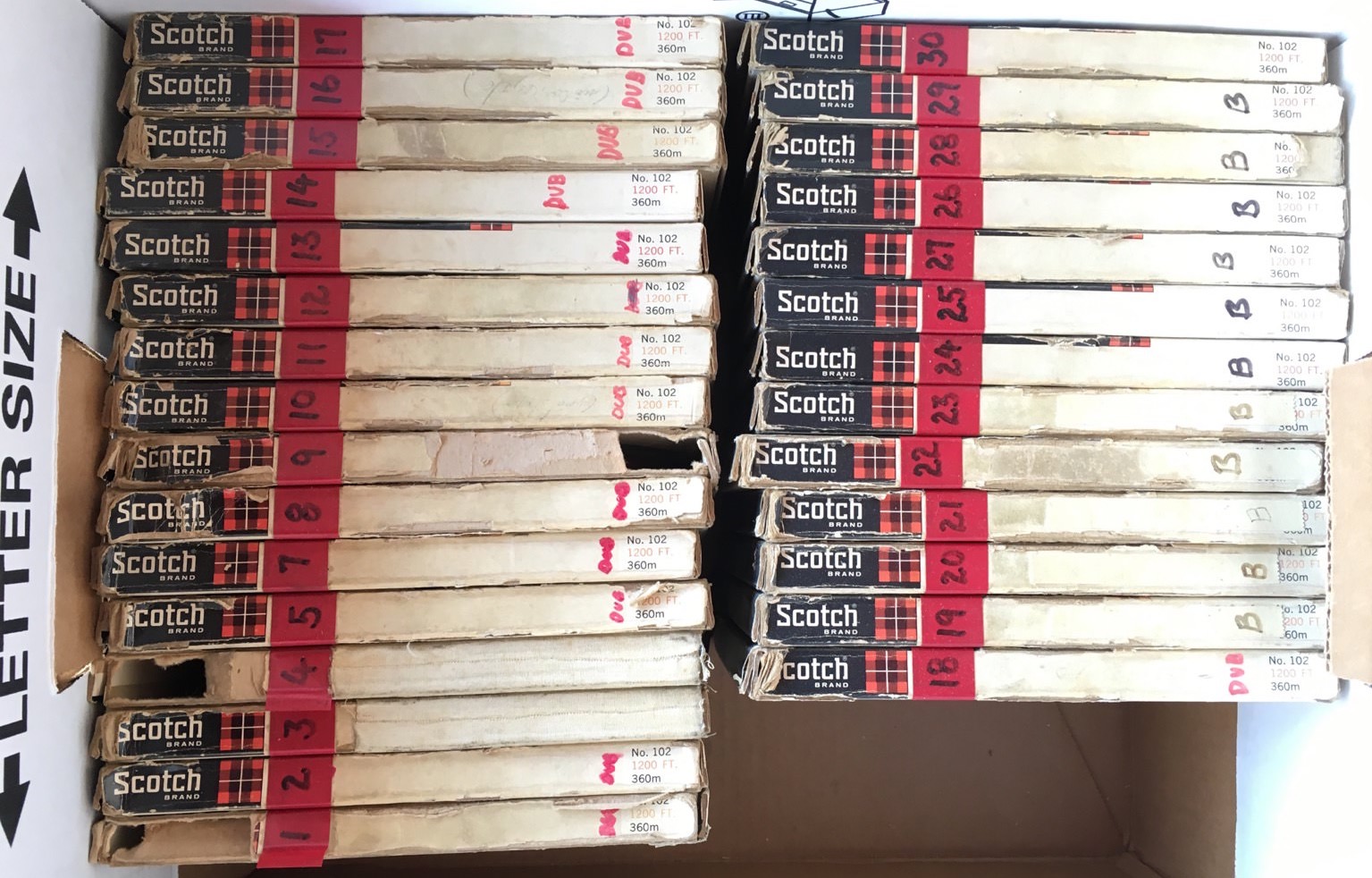 Article by: Craig Smith — Jan 03 2020
Turn Back the Clock with the Red Library!
Last February, I was thrilled when Soundly added The Golden Era Library to their amazing collection of sounds. These important classic Hollywood sound effects were nearly thrown away, but are now being used for all sorts of projects all over the world. Since then, I have continued to preserve the former USC optical sound effects library. And now I'm extremely happy to present the next collection of classic sound effects: The Red Library.
Where did these come from?
To recap, I acquired these sounds from the USC Hugh M. Hefner Moving Image Archive in 2016, just before they were to be thrown away. They are first generation full-track 1/4" tape transfers of 35mm optical sound effects.
What's the difference between the Gold and Red Libraries?
Although the specific origins of these sounds are mostly lost, It has become clear to me that the Gold effects were mostly clean "master" effects that were used to print copies to be cut into a film's soundtrack. The effects in this new Red Library are not as clean, and have many splices, indicating they have been a direct part of the editing process. I've nicknamed this library "the workbench collection," because these sounds are clearly leftovers from several Hollywood productions.
What's the difference between master and working copies?
Until the mid 1950s, sounds for film were recorded onto 35mm film by modulating a beam of light.

This was a delicate process that required extremely accurate exposure and developing. These tracks could be either variable area or variable density. Both had advantages and disadvantages.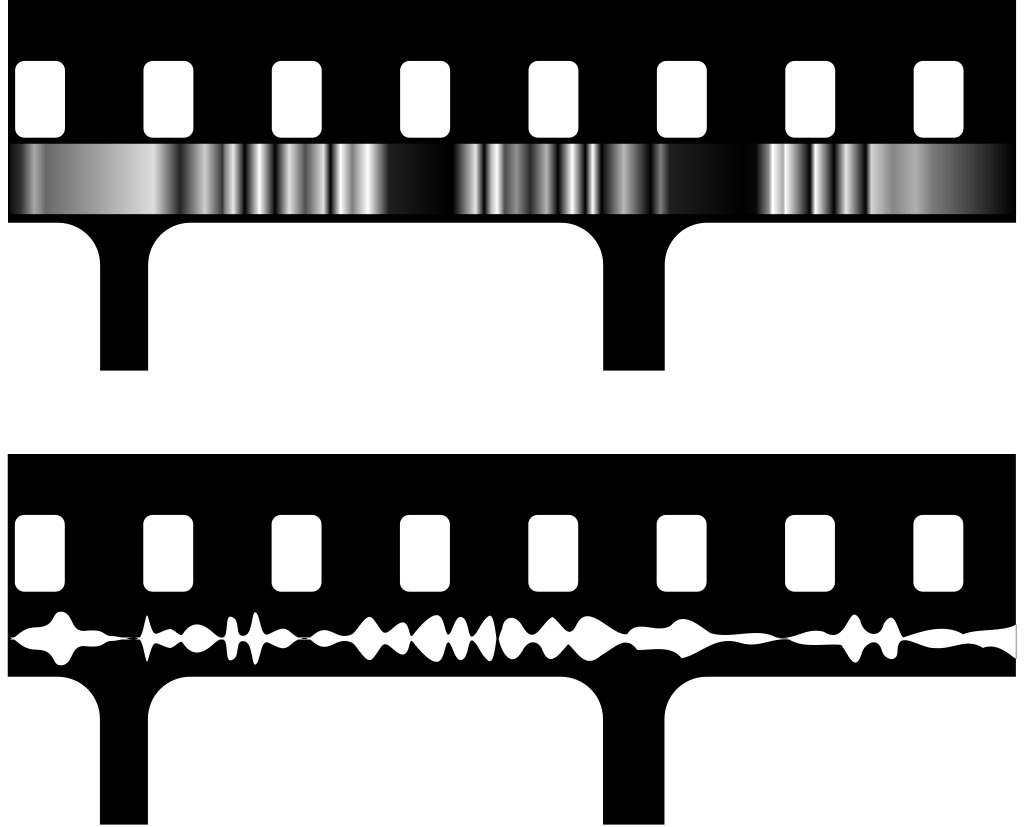 These master tracks would then be duplicated for editors, cut into individual sounds, and wound into small rolls held by rubber bands or paper tape. They were then placed into "trim boxes" for easy access.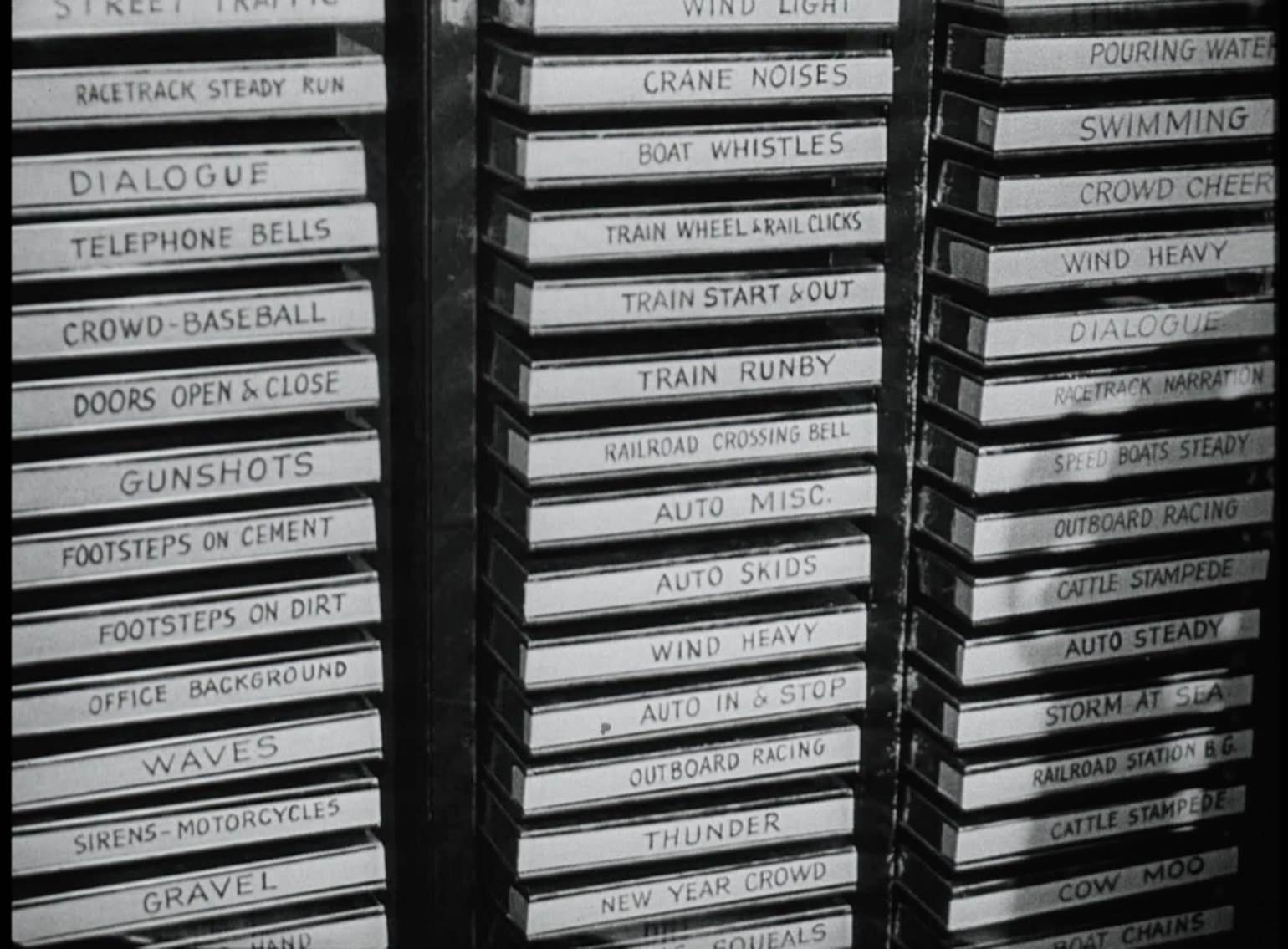 The sounds could be retrieved by editors and edited on a Moviola editing machine As they cut effects, they would return the leftover bits, the "trims", to the trim boxes.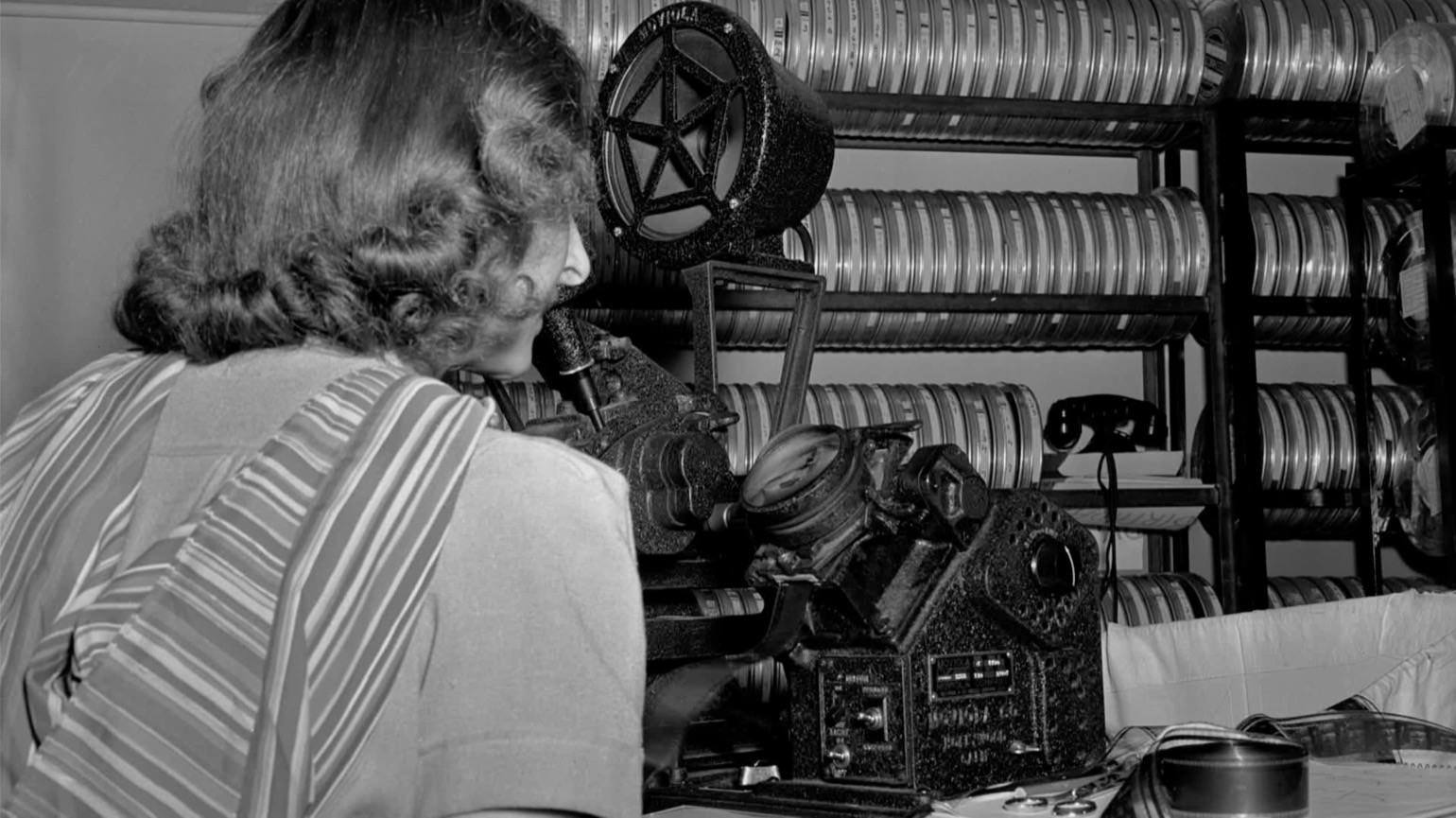 The sounds were edited onto reels that were then put onto reels and loaded onto "dubbers" for final mixing.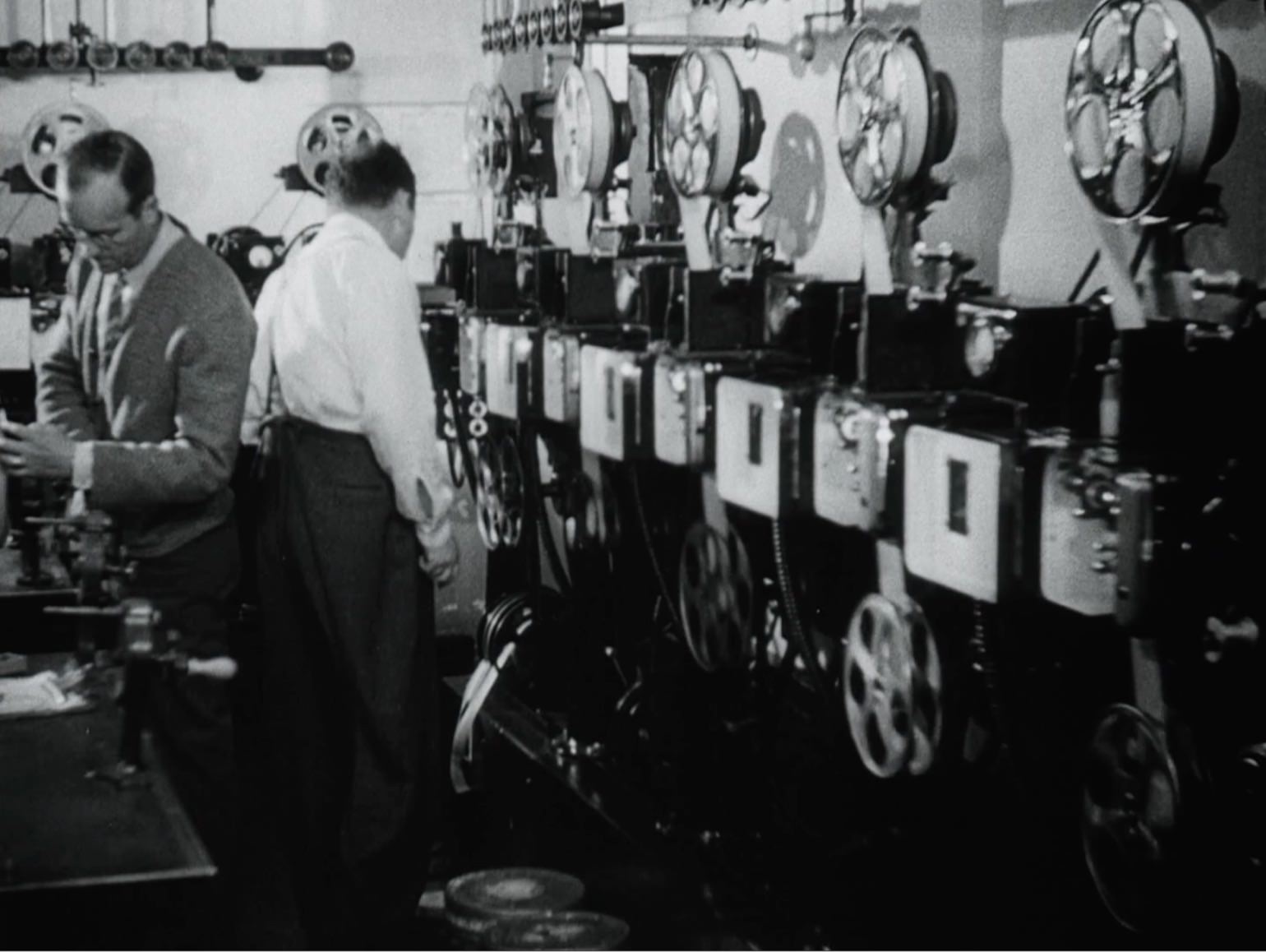 This system worked well, except that every optical generation created more noise, loss of high-end, and distortion. Since the prints shown in theaters were many generations removed from the original recordings, precision in every step was incredibly important.
What happened in the editing room?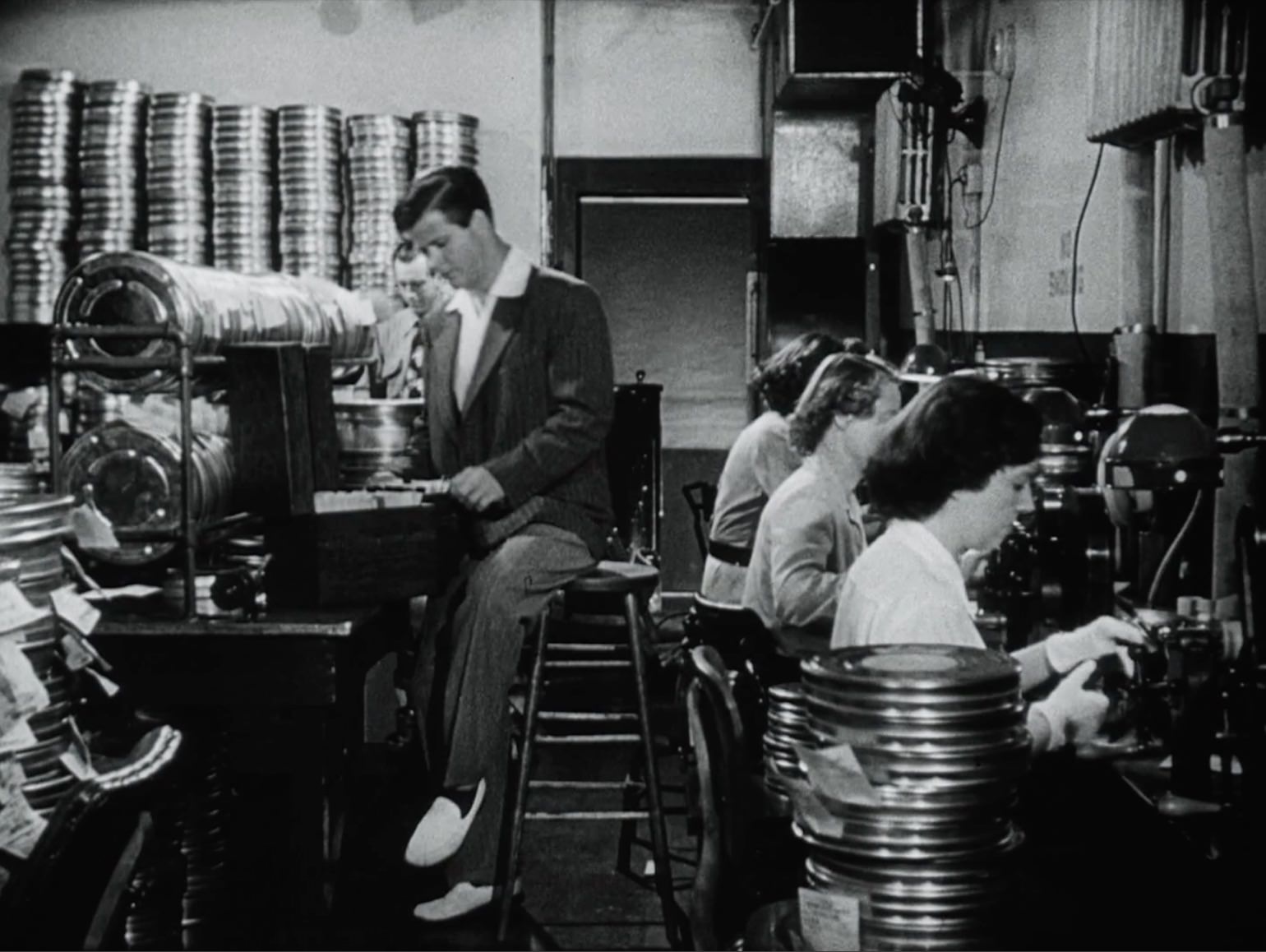 Sound editors loved to collect their favorite sounds so they could use them again and again. Sometimes they would print more copies of a sound than they needed. Everyone was fine with this, but making copies of copies could lead to degraded sound quality. They also would take the trims with them at the end of a production, even though they might be full of audible splices.
Another thing editors did was to install "portable" optical cameras in the edit room to speed up the process.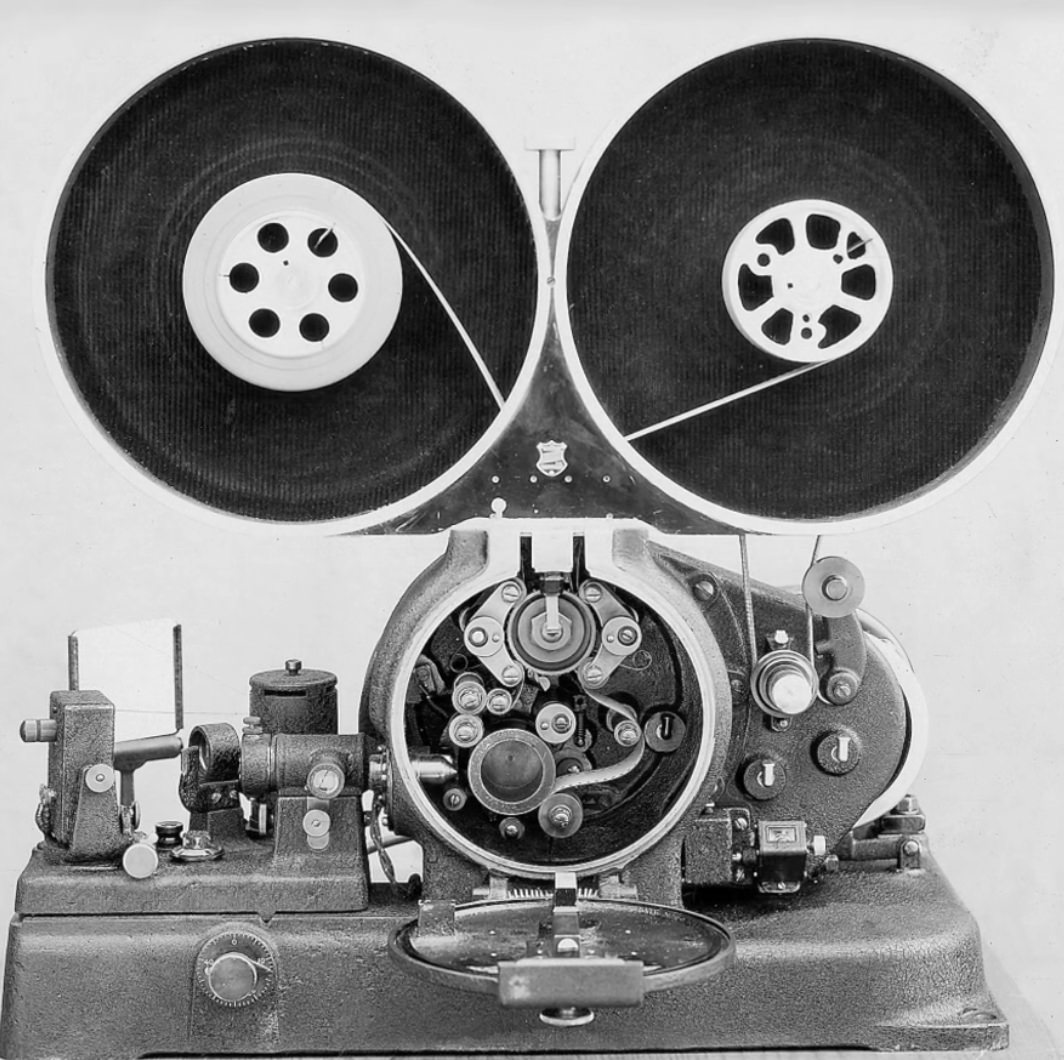 This was likely to introduce ground noise, and intermodulation distortion due to improper exposure.
So how does the red library sound then?
Pretty good, actually!
My original intent with this project was to preserve, not restore. But I realized that many of these sounds needed a little help. So I did some minimal restoration including hum and hiss reduction, reduction of distortion, and splice repair (gaps and clicks). Since there are over 1,500 effects in this library, the time spent on each effect was limited. But I'm happy with the results. These are very usable sounds that you won't find anywhere else. And they layer very well with modern digital effects.
So what's next?
There is a lot more sound to recover in this project. The Red and Gold libraries were the easy stuff. Beyond this, I'm dealing with tapes that are badly shrunken, and tapes that have sticky-shed syndrome. Since I'm the one doing the transfers, I don't know when I will have more to share. But I know there's good stuff in those tapes, and I'll find a way to recover it.
Again, I want to thank those whose support has kept me going on this project: Peder Jørgensen, Christian Schaanning, Leanna Kaiser, Jesse Smith, Dino Everett, Ben Burtt, Frederic Font, Randy Haberkamp, and Lynn Becker.
—Craig Smith
Craig Smith's Biography
Craig Smith has been recording and manipulating sound since 1964. After graduating from USC's School of Cinematic Arts, he worked as a sound editor and production mixer in Hollywood, specializing in noisy action-adventure films that are blamed for the downfall of society. He left that world in 1986 to teach at California Institute of the Arts, where he is now Academic Sound Coordinator in the School of Film/Video.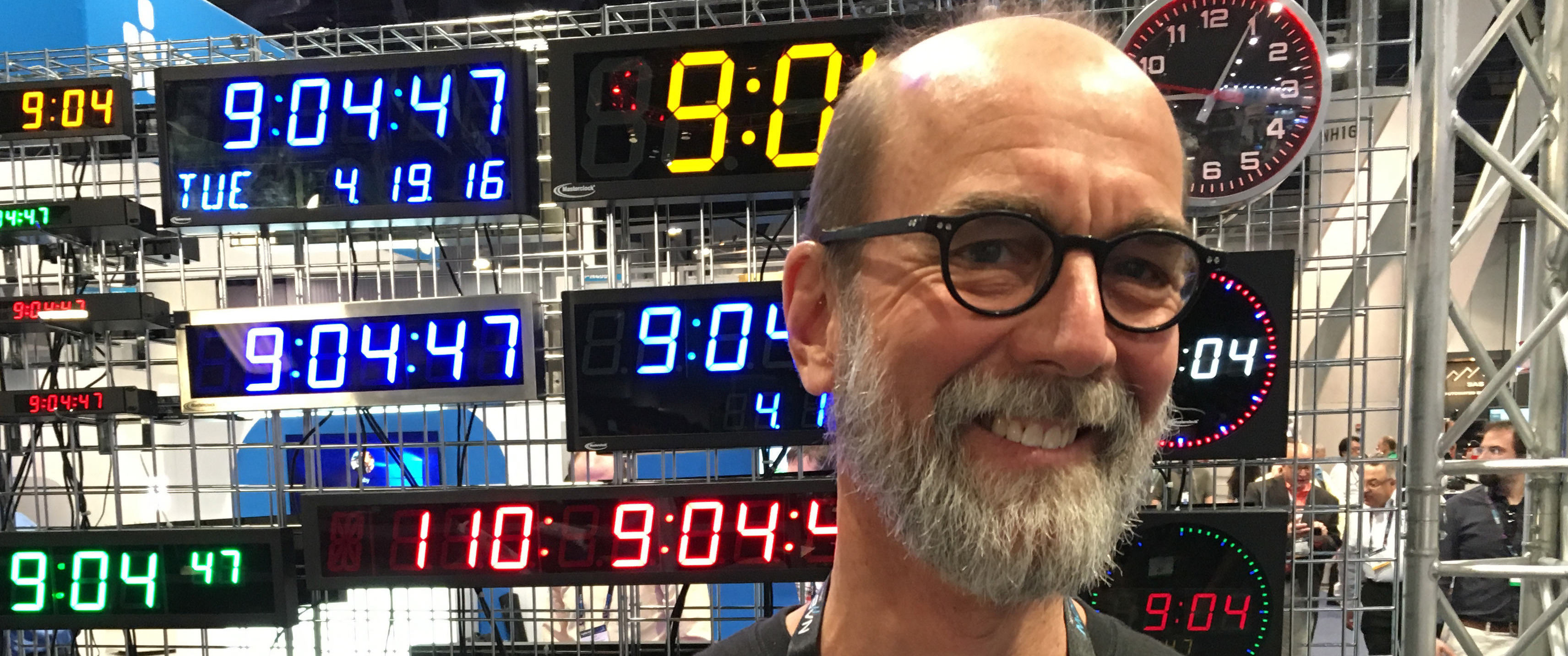 Craig's own work experiments with implied narrative and accidental sound design – putting together sounds & images that have nothing to do with each other to create unexpected stories.
Craig is a member of the Society of Motion Picture and Television Engineers, and the Audio Engineering Society.
To get The Red Library, go to the add-ons-section inside Soundly, and add it for free.
Download Soundly at getsoundly.com